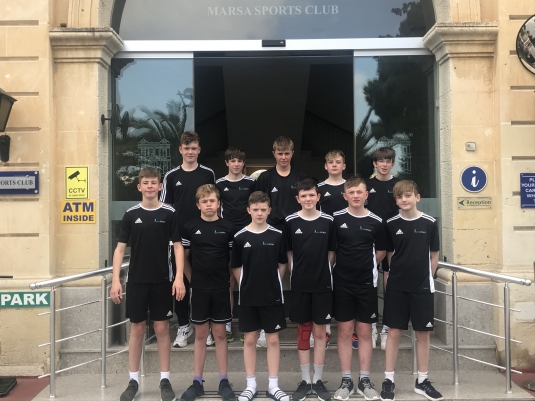 Malta Cricket Tour
Fantastic Malta Tour with great games and weather !
Check out the Match Report here.
Malta - April 2018
Boarding the plane at Leeds/Bradford airport with snow settling all around, delay on taking-off mounting by the second, to finally put our feet down on Maltese soil some 7 hours later was a huge relief! Great credit to the entire squad, the behaviour of everyone on the party was excellent with no one moaning about circumstances that were out of our control.
Our first game saw us take on the Winchester Wombats, a junior team from Hampshire made up of a number of age-group county players. The format was 20/20 and having lost the toss we had 98 runs to chase. We lost by 2 runs, bowled out for 96. Jacob Hunter playing very well for 25 but unable to go on to make the significant score required.
Second game was against the Marsa Academy, chasing 129 we finished on 81 - 9, losing by 48 runs.
Third game was again against the Wombats, this time we played our most complete game, posted a strong total of 141 - 2, built around a fine 88 run partnership between Harry Holland and captain Jack Woodhead, Holland finishing on 66 no, Woodhead 32 no.
The game was won by 16 runs to square the three match series, one game each.
Final game of the tour, a winner takes all game!
Having won the toss and decided to bowl, we struggled to make the early inroads we anticipated allowing the Hampshire boys to post and a significant total of 150 - 7.
In reply we lost Jacob Hunter caught at slip for 2, a 22 run partnership between Harry Lee and Harry Jackson steadied the ship before Lee was LBW, a further 21 run partnership between Harry Jackson and Harry Holland once again grappled the initiative before both departed. A steady stream of wickets followed until Toby Williamson and Archie Wilcock put on 19 runs to take the total to 84 all out.
Overall an excellent tour, a wonderful experience where all the boys gained opportunities to express themselves and make an impact on the game.
Tour captain, Jack Woodhead grew and matured through the tour
Harry Holland was the stand out batsman and received excellent support from Jacob Hunter and Jack Woodhead.
Henry Sumner was the stand out bowler, never afraid to give the ball some air, he too received good support from Jacob Hunter and Jack Woodhead.
Toby Williamson had a strong tour with improvement every day with his wicket-keeping and was voted tourist of 2018.
We are already planning and looking forward to next years trip hopefully without snow on our departure!!
Back to all news